Aass Brewery (Norwegian: Aass Bryggeri) is Norway's oldest brewery still active. Founded in 1834 in Drammen.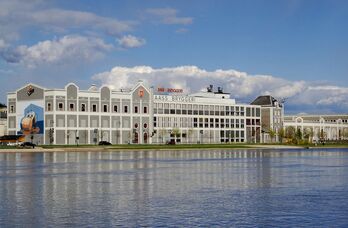 The Brewey is situated at its original site, Nedre Sund, Bragernes, Drammen, by the Drammen river. The company was purchased by  Poul Lauritz Aass in 1864, and has been owned by the Aass family ever since.
The brewery building has been expanded and modernized several times, but always keeping the original building's style. The building's central location by the Drammen river, prominently visible when riding a train into the city, means that it is a characteristic and important part of the city.
Aass brewery brews several different varieties of beer as well as soda and other alcoholic beverages.
Classic Beer Varieties
Edit
This is a selection of some of the classic beer types that Aass has brewed for a long time. Aass uses the german Reinheitsgebot for brewing its beers.
Pils (Pilsner): A classic german pilsner style
Fatøl (Draft Beer)
Bayer: A common Norwegian variant of a Märzen or Münchener Dunkel.
Classic
Bock
Juleøl (Christmas Beer): A traditional strong dark and sweet beer brewed and sold for Christmas
Modern Beer Varieties
Edit
Due to the popularity of microbrews, Aass has expanded its lineup with several other types of beer
IPA
Pale Ale
Weizen
Stout
http://www.aass.no/splash/aass-bryggeri/bryggeriets-produkter/?site=bryggeriets-produkter
Community content is available under
CC-BY-SA
unless otherwise noted.