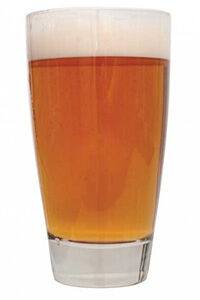 Amber ale is a term used in Australia, France, and North America for pale ales brewed with a proportion of amber malt and sometimes crystal malt to produce an amber color generally ranging from light copper to light brown. A small amount of crystal or other colored malt is added to the basic, pale-ale base to produce a slightly darker color, as in some Irish and British pale ales. In France, the term "ambrée" is used to signify a beer that is amber in color. The beer, as in Pelforth Ambrée and Fischer Amber, may be a Vienna lager, or it may be a Bière de Garde as in Jenlain Ambrée. In North America, American-variety hops are used in varying degrees of bitterness, although very few examples are particularly hoppy. In Australia, the most popular amber ale is from Malt Shovel Brewery, branded James Squire in honor of Australia's first brewer, who first brewed beer in Sydney in 1794.
Community content is available under
CC-BY-SA
unless otherwise noted.