Austria (German: Österreich), officially the Republic of Austria (German: Republik Österreich), is a landlocked country in Central Europe. It borders both Germany and the Czech Republic to the north, Slovakia and Hungary to the east, Slovenia and Italy to the south, and Switzerland and Liechtenstein to the west. The capital is the city of Vienna on the Danube River.
The origins of modern Austria date back to the ninth century, when the territory of Upper and Lower Austria became increasingly populated. The name "Ostarrichi" is first documented in an official document from 996. Since then this word has developed into the Österreich.
Austria is a parliamentary representative democracy comprising nine federal states and is one of six European countries that have declared permanent neutrality and one of the few countries that includes the concept of everlasting neutrality in its constitution. Austria has been a member of the United Nations since 1955[5] and joined the European Union in 1995.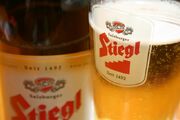 There are many different types of Austrian beer. The most common style of beer is called Märzen which is roughly equivalent to the English lager or Bavarian Helles. Among the multitude of local and regional breweries, certain brands are available nationally.
One of the most common brands of beer to be found in Austria is Stiegl, founded in 1492. Stiegl brews both a helles (a light lager) and a Weissbier (Hefeweizen), as well as other specialty beers.
Ottakringer from Vienna can be found more often in the eastern provinces. Among Styrian breweries, in the south, are the popular Gösser, Puntigamer and Murauer brands. Hirter is produced in the town of Hirt in Carinthia. In Lower Austria Egger, Zwettler, Schwechater, and the popular Wieselburger predominate.
From the more westernly parts of Austria come Kaiser, Zipfer and Kapsreiter in Upper Austria. Upper Austria is also home to famous Freistadt beer (Freistädter Bier). The brewery's organization is unique in that the brewery is a commune - owned and operated by those individuals who own a house within the city walls, thus the name of the town Freistadt (free-city). Continuing West, Salzburg is home to aforementioned Stiegl, as well as Augustiner Bräu (not related to the German one) and Edelweiss. Weissbier (wheat beer) is the most popular type of beer in this region. From Tyrol and Vorarlberg comes Falkenstein, Frastanz, Mohrenbräu, Starkenberger, Zillertaler and the popular Fohrenburger.
In Vorarlberg is also a beer brand called Egger Bier, which is brewed by a brewery in Egg, Bregenzerwald. This led to a lawsuit with the above-mentioned Egger from Lower Austria, which ended in an agreement between the two breweries. So, when buying a Egger in Vorarlberg you get one from Egg, whereas in the rest of Austria it will be from Lower Austria.
External links
Edit
Community content is available under
CC-BY-SA
unless otherwise noted.