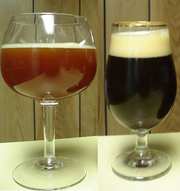 Barley wine or Barleywine is a style of strong ale originating in England in the nineteenth century (derived from the March or October beers of the 18th century) but now brewed worldwide. The first beer to be marketed as Barley Wine was Bass No. 1 Ale, around 1900. The term "barley wine" had been used before in other contexts.
Characteristics
[
]
A barley wine typically reaches an alcohol strength of 8 to 12% by volume and is brewed from specific gravities as high as 1.120. It is called a barley wine because it can be as strong as wine; but since it is made from grain rather than fruit, it is in fact a beer. In the United States, barley wines are required for this reason to be called "barley wine-style ales." Though this may be mistaken by some to imply that they are not truly barley wines; in fact it only means that they, like all barley wines, are not truly wines.
Its natural sweetness is usually balanced with a degree of hoppy bitterness, though traditional English barley wines often have far less bitterness than their American counterparts.
This beer is meant for slow sipping and savoring of its fruity, high-alcohol and well-aged character. It is brewed often to celebrate events and the high levels of both hops and alcohol allow some barley wines to be aged for years, much like wines.
Most barley wines range in color from amber to deep reddish-browns. Though until the introduction of Whitbread Gold Label in the 1950s, British Barley Wines were always dark in color.
Style statistics
[
]
Examples
[
]
Canada
[
]
Olde Deuteronomy

from

Alley Kat Brewing Company

Solstice d'été

from

Dieu du Ciel

St-Ambroise Vintage Ale

from

McAuslan Brewing Company

Burlywine

from

Half Pints Brewing Company
Ireland
[
]
Smithwick's Barley Wine

from

Diageo
England
[
]
Bass No 1 Barley Wine

from

White Shield Brewery

(brewed occasionally)

Bodger's Barley Wine

from

Chiltern Brewery

Elizabethan Ale

from

Harvey's

Gold Label

from

Whitbread

Golden Pride

from

Fuller's

Old Nick

from

Young's

Old Tom

from

Robinson's

Samuel Smith's Strong Golden Barley Wine

from

Samuel Smith

, Tadcaster

Thomas Hardy's Ale

from

O'Hanlon's

, Devon
New Zealand
[
]
Enigma

from

The Twisted Hop
Norway
[
]
Sweden
[
]
Nils Oscar Barley Wine

from

Nils Oscar Bryggeri och Bränneri
United States
[
]
See also
[
]
External links
[
]