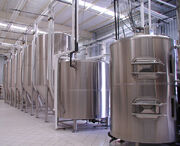 For a list of breweries, see Category:Breweries or Breweries by Country.
A brewery can be a building or place that produces beer, or a business (brewing company) whose trade is the production and sale of beer. Breweries can take up multiple city blocks, or be a collection of equipment in a homebrewer's kitchen. The diversity of size in breweries is matched by the diversity of processes, degrees of automation, and kinds of beer produced in breweries.
The oldest brewery in the world still in operation is believed to be the Bavarian State-owned brewery Weihenstephan, found in the German city of Freising, which can trace its history back to 1040. However, the Zatec brewery in the Czech Republic claims it can prove paying beer tax in 1004.
Breweries today are made predominantly of stainless steel, although vessels often have a decorative copper cladding for a nostalgic look. Stainless steel has many favorable characteristics which make it a well-suited material for brewing equipment. It imparts no flavor in beer, it reacts with very few chemicals, which means almost any cleaning solution can be used on it (concentrated chlorine bleach being a notable exception) and it is very sturdy. Sturdiness is important, as most tanks in the brewery have positive pressure applied to them as a matter of course, and it is not unusual that a vacuum will be formed incidentally during cleaning.
Heating in the brewhouse is usually achieved through pressurized steam, although direct-fire systems are not unusual in small breweries. Similarly, cooling in other areas of the brewery is typically done by cooling jackets on tanks, which allow the brewer to precisely control the temperature on each tank individually, although whole-room cooling is also common.
Today modern brewing plants perform myriad analyses on their beers for quality control purposes. Shipments of ingredients are analyzed in order to correct for variations; Samples are pulled at almost every step and tested for oxygen content, unwanted microbial infections, and other beer-aging compounds; and a representative sample of the finished product is often stored for months for comparison when complaints are filed.
Community content is available under
CC-BY-SA
unless otherwise noted.