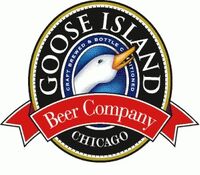 Goose Island Brewery is a brewery located in Chicago, Illinois, that began as a single brewpub known as Clybourn, which was opened in May 1988 by John Hall in Lincoln Park, Chicago, Illinois. The larger brewery (as we know it today) was opened in 1995, while the second brewpub, Wrigleyville, was opened in 1999.
On March 28, 2011, Goose Island announced that it will sell its 58% stake in Fulton Street Brewery LLC (the legal name of Goose Island Brewing) to distribution partner Anheuser-Busch. The remaining 42% stake, owned by Craft Brewers Alliance LLC, is also to be purchased by Anheuser-Busch. This ownership being more than 25% by a non-craft brewer makes Goose Island a non-craft brewery.
The beers are distributed across the United States and the United Kingdom, after a large stake of the company was sold to Widmer Brothers Brewery in 2006, and the brewery was able to expand into different markets. The brewer began distributing their Matilda beer west of the Rockies in March 2010. Goose Island outsources the production of some of its beers. Honker's Ale and IPA sold on the east coast is now brewed under contract in New Hampshire.
Goose Island has two brewpubs which both serve brunch, lunch, and dinner. The Clybourn location has specialty food items, such as duck, rabbit, and truffle aioli served with French fries. They serve anything from a burger and fries to homemade sausages and PEI Mussels. The Wrigleyville location serves mostly pub food like burgers and chicken. The brewpubs are supplied by local farmers who raise natural meats; many of the animals are fed the same wheat and grain that was previously used to make the beer, as one sign reads "Beer Fed Pork Served Here."
The Goose Island brewpubs were not a part of the sale of Goose Island Beer Company to Anheuser Busch.