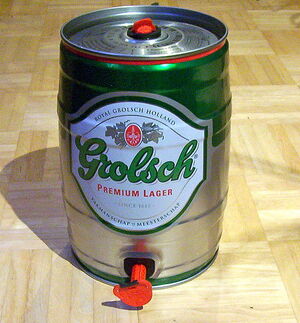 The mini keg is a 5-liter keg produced for retail sales. Some brands come with a spout and pour from the bottom via gravity, while others may use a low cost pressurized tap. Mini kegs are typically not returned to the manufacturer for cleaning and refilling. The kegs, being made of aluminum, may be recycled.
In Canada, Molson brewery dubbed the mini keg "Bubba." Much like other brand names, the name is now generally applied to all 5-liter mini kegs in Canada. This might cause confusion, as a company called Bubba Keg is established in the U.S., and appears to not be associated with Molson.
Another type of mini keg is the "beer ball", a disposable plastic ball that usually holds around 5.2 gallons, roughly the equivalent of fifty five twelve-ounce beers, though they can also be found in a smaller, 3.8 gallon size. Like kegs, it is necessary to tap the ball before the beer inside it can be served.
See also
[
]