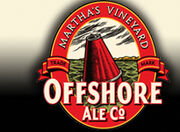 Offshore Ale Co. is the only brewpub on the island of Martha's Vineyard. Located in the town of Oak Bluffs, it is one block west of the historic commons and a few blocks east of the town's famous gingerbread houses. It opened in 1997 and was formerly called the Cottage City Brewing Co. Unlike many restaurants and bars on the island, Offshore is open year-round.
Offshore usually has eight taps running, six for regular brews and two dedicated to cask conditioned ales. Guest beers are sometimes poured.
Year-Roundahs
Edit
Beech Road Nut Brown Ale
East Chop Lighthouse Lager
Blackpoint Porter
Offshore Amber
Offshore India Pale Ale
Hop Goddess
Steeprock Stout
Menemsha Creek Pale Ale
Ovah dah Hill (retired)
Presidenti-ale - a special commemorative brew celebrating President Obama's visit to the Vineyard in 2009.
ESB (Extra Sensory Beer)
Availability
Edit
Offshore Ale is available in many package stores on the Vineyard (only Tisbury, Oak Bluffs and Edgartown), in the Cape Cod area and throughout Massachusetts. Most beers come in 22oz. bottles; growlers are available from the pub.
Personnel
Edit
Offshore's brewmaster is Neil Atkins, a U.K. ex-pat who took over responsibilities in 2008. The pub is owned by Phil and Colleen McAndrews.