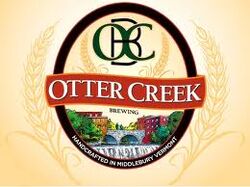 Otter Creek Brewing Company is a [microbrewery] located in Middlebury, Vermont. Otter Creek brewed the first batch of its signature Copper Ale® in March 1994 and has been in business ever since. In 1998 the brewery expanded to its current location at 793 Exchange Street, Middlebury, Vermont, where it continues to reside today.
It currently brews Copper Ale®, a Black IPA, and Stovepipe Porter year round, with seasonal brews throughout the year. It's current seasonal brews include a Spring Bock, Otter Summer, Oktoberfest and a Winter Red Ale.
Past seasonals include: A Winters Ale, Mudbock, and Middleberry Ale.