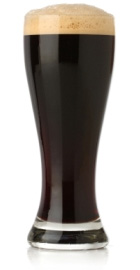 Schwarzbier is a German dark lager beer. It has an opaque, black color but only hints of chocolate or coffee flavors, unlike a stout or porter.
Unlike dark ales, schwarzbiers are more reminiscent of lagers to which this style perennially represents. There are no yeast-derived flavors dominating, while sometimes the body can be full or sweet. The spectrum reaches from black pilsners to darker and somewhat roastier Munich dunkels.
Schwarzbiers are bottom-fermented beers, though originally top-fermenting yeast was used in brewing them. The alcohol content usually ranges from 4.1% to 5%. They get their dark color from the use of particularly dark malts or roast malt extract in brewing. The malt, in turn, gets its color during the roasting procedure.
Examples of schwarzbiers include:
Community content is available under
CC-BY-SA
unless otherwise noted.