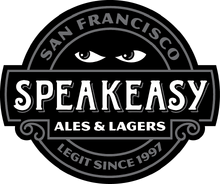 Founded on a typically foggy San Francisco summer in 1997, Forest Gray and his team were inspired to bring their unique and exceptional beers from the underground to the masses. Speakeasy Ales & Lagers started with the focus of producing small batches of beer in a secret warehouse in San Francisco's long forgotten Butchertown District.
The brewery is often best known for it's striking 1920s imagery and branding. It's first beer, Prohibition Ale, is a bold, hoppy amber ale. Another beer, Big Daddy IPA, would become Speakeasy's kingpin and San Francisco's best-selling IPA.
From the brewery's humble beginnings delivering hand-filled kegs out of the back of a van, the company now boasts more than 30 distributors across the West Coast and major metropolitan markets across the country.
In 2011 ushered in a new era in the brewery's history, featuring the launch of multiple new beers and the opening of The Speakeasy Tap Room.
In 2015, a new 60 barrel brewhouse, malt handling system, fermentors, centrifuge, and canning line were installed, increasing production capacity to 90,000 barrels per year.
From only four employees to over 40 in 2015, Speakeasy has grown by leaps and bounds. 
Location
1195 EVANS AVE, SAN FRANCISCO, CA, USA
Contact
(415)642-3371
INFO@GOODBEER.COM
Website
Beers
Session Series
Baby Daddy IPA
Suds Session Ale
Pop Gun Pilsner
The Usual Suspects
Big Daddy IPA
Prohibition Ale
Metropolis Lager
Scarlett Red Rye Ale
Tallulah Extra Pale Ale
Double Daddy Imperial IPA
Payback Porter
Limited Series
Black Hand (Chocolate Milk Stout)
Vendetta India Pale Ale (West Coast)
Untouchable India Pale Ale (Nelson)
Butchertown (India Black Ale)
Infamous Series
Old Godfather Barleywine Ale
Old Godfather Barleywine Ale aged in Bourbon Barrels
Blind Tiger Imperial IPA
Scarface Imperial Stout
Scarface Imperial Stout aged in Bourbon Barrels
Barrel-Aged Fixed Fight Old Ale
Syndicate Series
Syndicate No. 03 Recipe (Imperial Stout)
Syndicate No. 02 Recipe (Barrel-Aged Vintage Ale)
Syndicate No. 01 Recipe (Barrel-Aged Vintage Ale)
Perfect Crime Series
Bronze Anniversary Ale (July 2016)
Juice Joint Kettle Sour (May 2016)
Teetotaler San Francisco Common Lager (April 2016)
Massacre Imperial Stout w/ Cherries (February 2016)
Discreet Wheat Ale (January 2016)
Community content is available under
CC-BY-SA
unless otherwise noted.